Over the last month of progressive shutdowns to mitigate the loss of life from COVID-19, we heard from our clients and webinar participants that your primary concern is supporting the existing businesses in your region. They are, after all, the lifeblood of any area economy. And right now, they need your help more than ever.
We heard you. Our development team got right to work. The result of this incredible turnaround is the launch of our brand new mobile-responsive tool called ZoomBusiness for economic development organizations, chambers of commerce, cities, towns, and counties across the US and Canada.
ZoomBusiness may look a bit like ZoomProspector, the industry's leading corporate site selection GIS data tool, but it's actually totally different - instead of mapping and listing available commercial sites and buildings, it maps area businesses open or offering modified services for the course of this pandemic.
ZoomBusiness helps people search for local businesses in different categories of essential services, such as groceries, pharmacies and banks. With this interactive GIS tool, you can keep those dollars in your own area, where they are most needed right now.
ZoomBusiness puts your economic development organization, chamber of commerce, town, county, state or province in a position to directly and immediately help direct people to the shops, services and restaurants in your region that desperately need all the help they can get to survive this pandemic. Best of all, it's simple to use. Your area businesses can enter their information on their own, so the data is easy to manage.
We know this is a difficult time for everyone, and GIS Planning has committed to helping our clients when they need it most. That's why we are providing ZoomBusiness free for all full edition ZoomProspector clients. If you aren't currently a GIS Planning client, you can add ZoomBusiness for a nominal charge, with price indexed to population to keep it affordable. Click here to email our sales team for a demo.
Put ZoomBusiness to work for your area businesses right away:
Existing clients should email

support@gisplanning.com

to get your area's unique URL for ZoomBusiness. Everyone else should click the button at the bottom of this post to get pricing.
Paste the link for your area's ZoomBusiness in

prominent places across your website:

in the hero image on the home page, in your headers, or in a pop up. ZoomBusiness is available as a link, not code to be embedded in your website.
Encourage area businesses to add their business information by clicking on the Add Business in the top right of the screen. They do not need a login. Use social media: LinkedIn, Facebook, Twitter. Ask local leaders to help spread the word. Put an ad in your local newspaper. Send out an email blast or e-newsletter. The image below shows you what that page will look like (there are other fields below as well, not shown here). Empty fields will not be displayed on the tool.
Your EDO staff can enter the open business data yourself if you prefer, by clicking on the Add Business button in the top right.
Approve any businesses submitted before they can go live by logging in to admin.zoomprospector.com. Click on COVID-19 in the header of your admin (see here). There is no notification for new additions (coming soon!), so check your admin a couple of times each day to approve new additions.
Promote your ZoomBusiness link to consumers on your website, on the local town website, through your chamber of commerce, on social media, in e-newsletters, in the newspaper, on the radio.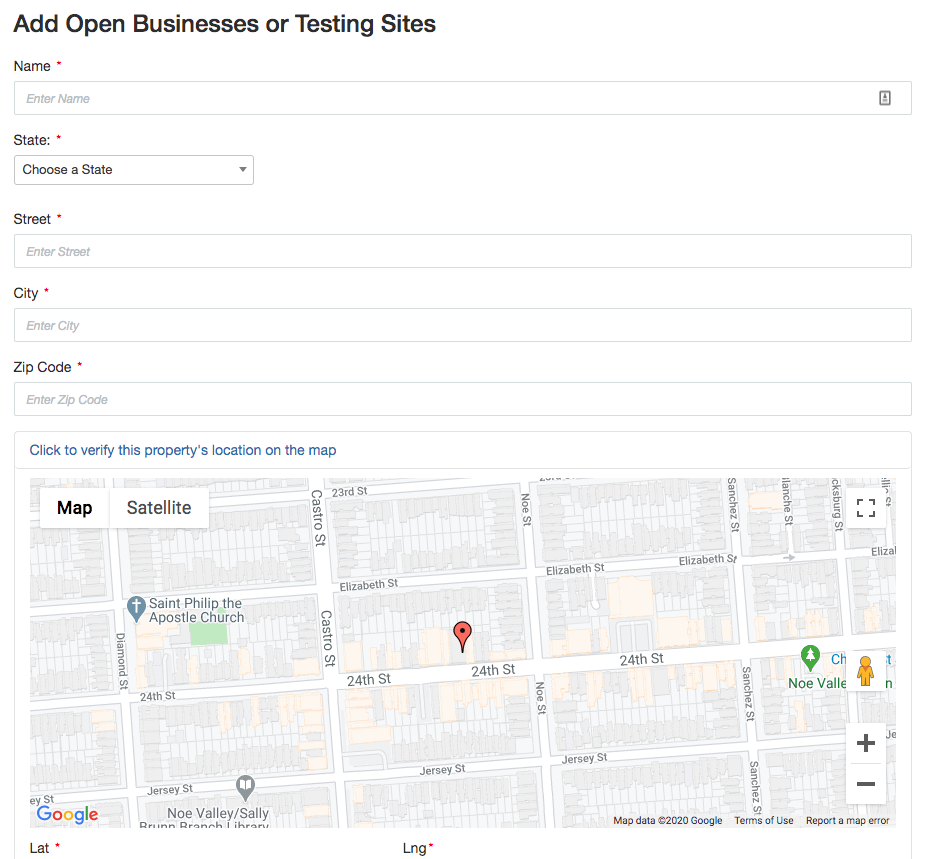 What else is new?
Questions? Feel free to get in touch by emailing support@gisplanning.com or call us at 415-294-4774.