Henderson (KY). Henderson County Economic Development has launched a set of new online data tools on their website, HendersonKYEDC.com, to promote the region for business relocation and expansion. The online data portal makes information, research and analysis instantly accessible to community stakeholders, site selectors, realtors and existing businesses seeking market intelligence to make informed decisions.
"Henderson County has a strong labor force experienced in manufacturing. We are uniquely positioned to meet the needs of new and relocating industries. Henderson County is a competitive community that cultivates knowledge and innovation, attracts and retains skilled and motivated labor across our region," said Missy Vanderpool, Executive Director of Henderson Economic Development.
"The new online tools from GIS Planning help us showcase our assets and tell our story in a more dynamic way."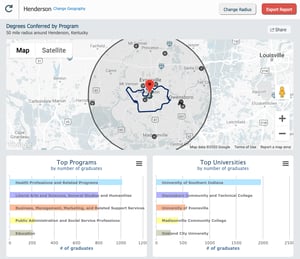 The interactive tools are mobile-friendly and put key data at the fingertips of website visitors. These include the sites and buildings property locator, a workforce tool, and Business Data Intelligence Components featured for selected target industries important to Henderson County. These are all provided by GIS Planning, the industry leader in economic development software. As site selectors or prospective investors assess possible locations, they can obtain the most accurate and up-to-date information on thousands of variables. Existing businesses and potential investors can research, analyze and export local and regional data on demographics, consumer spending, labor force, business, industry, infrastructure, and other GIS points of interest. Research can be easily exported, emailed or shared on social media networks.
"Market research shows that more than 98% of site selectors research locations online before getting in touch by phone, email or website forms," explains Anatalio Ubalde, co-founder and co-managing director of GIS Planning Inc., the industry-leading company that built the data tools. "You need to provide this critical data online when they are researching your website or risk losing potential investment. With this data portal microsite, Henderson County is open for business 24 hours a day, 7 days a week."
About the Henderson County Economic Development
Henderson Economic Development is the lead economic development agency for Henderson County, Kentucky. Our immediate economic opportunity is our strategic location in the world's richest marketplace; two-thirds of the population of the United States is located within a day's drive. We are a logistics hub that also offers access to river, rail and air freight services. Our low-cost utilities have attracted a strong manufacturing base anchored by vehicle parts makers, chemical distributors, food processors, metal alloys and tool-and-die firms. We are one of the nation's largest producers of primary and secondary aluminum.
For more information, please visit HendersonKYEDC.com.