International investors and businesses researching investments and development potential in Tampere, Finland can take advantage of a powerful set of online tools dedicated to showcasing what the region has to offer.
While the new InvestInTampereFinland.com data microsite portal was originally introduced by the Tampere Region to encourage investment, the COVID-19 pandemic cast new importance on the need for robust data to support existing business and industry.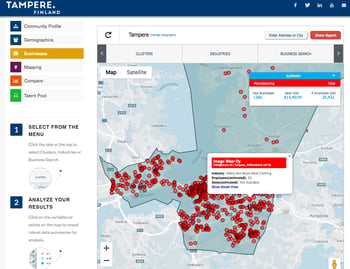 We see mid-sized cities have become more and more attractive for talents and companies in the wake of Covid-19. The statistical insights and comparison to other regions give clear evidence of the growth and attractiveness of the Tampere Region. The main advantage of the service is that the provided data can be analyzed and displayed for individual demands. The huge amount of collected data about the region can be visualized at a glance – an important aspect in the times of big data," explained Mr. Harri Ojala, Director, Investments and Global Operations at Business Tampere.
InvestInTampereFinland.com is a user-friendly, free-to-use data portal featuring comparative tools which speed up, simplify and expand the process of generating leads and market intelligence to enable informed, intelligent decision-making.
The data microsite enables site selectors to answer fundamental questions, such as 'What business and industry clusters are currently in this region?' 'Does the area have a market for my business to succeed?' 'Is there sufficient skilled labour?' and 'What are the salaries paid in that area for this industry?'.
The innovative web tools are all mobile responsive, and use simple, visually appealing infographics to display an overview of each location and feature interactive tools. Website visitors can easily document, export and share research with their specific contacts.
In addition, users can check out competition in an area, analyse the community profile, consumer expenditure and talent pool.
About Tampere Region: Read more about Tampere Region and invest in opportunities in Finland at BusinessTampere.com.
You can visit the GIS location analysis tool by clicking here.